Return Policy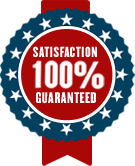 At Ink Cart Network our primary goal is to provide our customers with great products at very competitive prices and stand behind what we sell. Your satisfaction is very important to us and we want our valued relationship to continue.
Therefore, we have simplified our Return Policy for your benefit.
The products we offer for purchase are warranted to meet or exceed specific performance standards for which they are intended. In other words, if you purchase a toner cartridge for a laser printer you expect it to provide the ability to print documents in the color described.
If for some reason the product does not perform, you may return the item(s) for a full refund, product exchange or store credit.
We have created a fair and comprehensive return policy to assist you with the return process. If you would like personal assistance at any time contact us (by email at customerservice@inkcart.net) or call us at 1 (941) 766-1200.
Warranty periods for printing supplies are listed herein:


Compatible type cartridges are warranted for a period of 180 days from the date of purchase. Cartridge must contain no less than 75% of ink/toner capacity.
Re-manufactured type cartridges are warranted for a period of 30 days from the date of purchase and must contain no less than 75% of ink/toner capacity.
Original Equipment Manufacturer (OEM) type cartridges are warranted for a period of 30 days from the date of purchase and must contain no less than 75% of ink/toner capacity.
All returns and replacements of defective merchandise are done with no additional cost to you. For other returns, shipping charges are not refunded and a 20% re-stocking fee will be charged.
1. How do I return items?
First you need to contact us and explain the problem for any possible solutions. If the issue cannot be resolved please request an RMA (Return Merchandise Authorization) number. Returns will only be accepted with an RMA number. You can contact our customer service department and we will respond via email or call us at 1 (941) 766-1200.
When shipping an item back to us, please include the following:
A copy of your Invoice or the Transaction Order Number. Copies of invoices are available from your Personal Account Page. The original, unopened box with all the wrappings and seals if returning wrong item. The original box and all packing materials if returning defective item. Please do not return any defective products in some other product box. These will not be accepted. A written explanation on the RMA form detailing why you are returning or exchanging the product. Write the purchase invoice number on the label or box you are returning. If you are shipping the product back in the actual retail box then please write the purchase invoice number on a slip of paper and tape it to the box. Please ship your product via delivery service that can be tracked. This will help us expedite the process and help ensure that you receive a new product or proper credit as soon as possible.
2. Items we accept for return
Only products purchased from Ink Cart Network can be returned for exchange or credit. Retail packaging must be unopened and unaltered by writing, markings, or labels. We are not responsible for products sent to us past our warranty period or not ordered from our company. If we receive products which do not qualify for a refund or replacement, they will be sent to a recycling center. Please be sure to contact us before returning any products.
If you purchased an OEM (Original Equipment Manufacturer) such as Apple, Brother, Canon, Dell, Epson, HP, Lexmark etc. please refer to the original manufacture warranty. We ask that you contact them with any defective item(s), but do so as soon as possible since their warranties do expire within different time periods.
Any compatible or remanufactured (designed to work with the brand name machines) toners, inkjets, print-heads or ink tanks, will be handled by our Customer Service Department.
Please note that inkjet cartridges have expiration dates and items that are in sellable condition should be returned immediately.